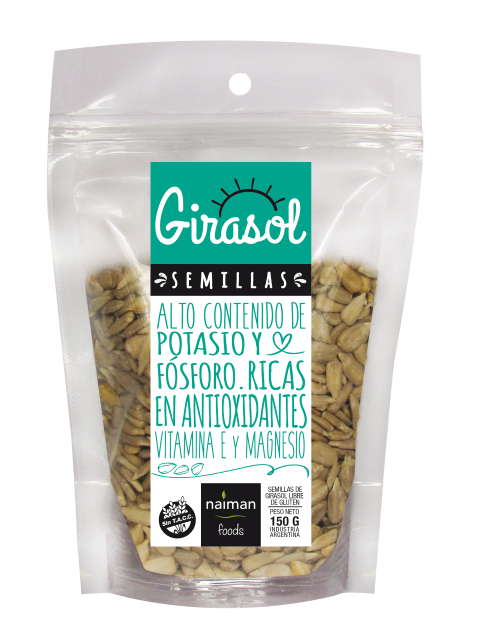 Characteristics
Sunflower seeds have important antioxidant properties, due to their high content of Vitamin E. They help protect cells against cell damage caused by time.
They have monounsaturated and polyunsaturated fats, called "good" fats, as they help increase good cholesterol.
These seeds can be consumed alone as snacks or you can add them to any dish in your daily meals.
Nutritional Facts

| | Proportion Amount | % VD (*) |
| --- | --- | --- |
| Energetic value | 61 kcal = 255 kJ | 3 % |
| Carbohydrates | 1,4 g | 0 % |
| Proteins | 2,6 g | 3 % |
| Total Fats | 5,0 g | 11 % |
| Saturated Fats | 0,5 g | 2 % |
| Trans Fats | 0 g | - |
| Omega 3 | 0,1 g | 4 % |
| Omega 6 | 0,6 g | 20 % |
| Dietary Fiber | 0,7 g | 3 % |
| Sodium | 0,6 mg | 0 % |
| Calcium | 10,5 mg | 1 % |
| Potassium | 92 mg | - |
| Magnesium | 40 mg | 15 % |
| Phosphorus | 70 mg | 6 % |
| Vitamin B1 - Thiamine | 0,2 mg. | 17 % |
| Vitamina B2 - Riboflamiva | 0,02 mg | 2 % |
| Vitamin B3 - Niacin | 0,72 mg. | 5 % |
| Vitamina E | 2,2 ug | 22 % |