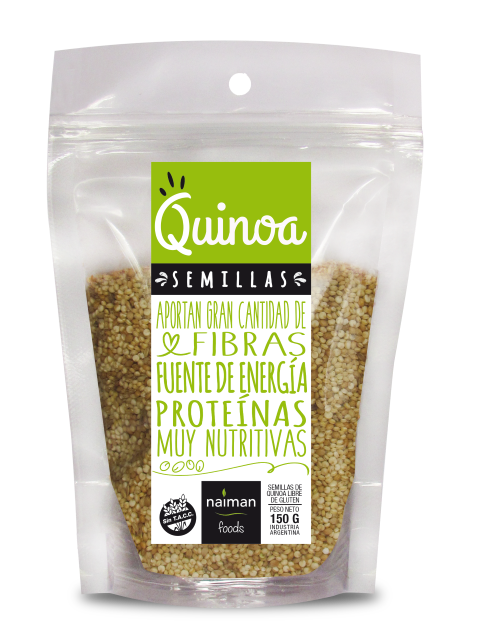 Characteristics
Quinoa is a seed that has great nutritional value. It is a complete food, ideal for vegetarians, as it contains a high percentage of protein and is a good source plant origin iron.
As it can be used as a cereal, it is ideal for people with celiac disease, as it does not contain gluten.
To consume quinoa seeds, the most important thing is to wash them well, because they have a bitter taste coating. Then use them the same as rice.
Nutritional Facts

| | Proportion Amount | % VD (*) |
| --- | --- | --- |
| Energetic value | 39 kcal = 165 kJ | 2 % |
| Carbohydrates | 6,9 g | 2 % |
| Proteins | 1,6 g | 2 % |
| Total Fats | 0,6 g | 1 % |
| Saturated Fats | 0,1 g | 0 % |
| Trans Fats | 0 g | - |
| Sodium | 0,5 mg | 0 % |
| Dietary Fiber | 0,5 g | 2 % |
| Calcium | 15 mg | 2 % |
| Potassium | 93 mg | - |
| Iron | 1,3 mg | 9 % |
| Phosphorus | 38 mg | 5 % |
| Magnesium | 25 mg | 10 % |
| Vitamin B1 - Thiamine | 0,03 mg | 3 % |
| Vitamina B2 - Riboflavina | 0,03 mg | 2 % |
| Vitamin B3 - Niacin | 0,06 mg | 0 % |