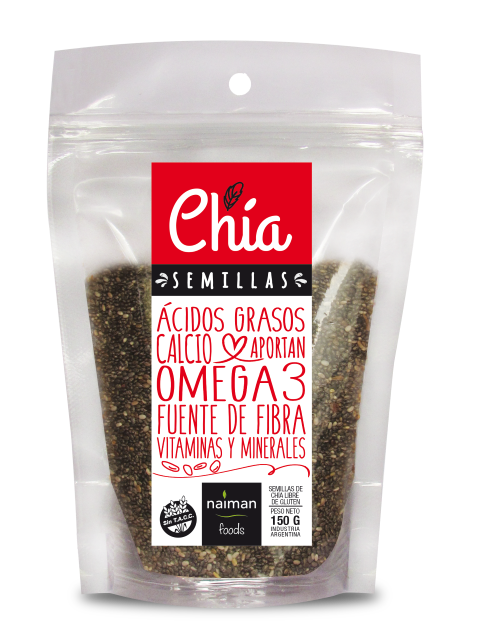 Characteristics
They naturally provide Omega 3 and Omega 6 fatty acids, polyunsaturated fats, considered essential because the body cannot produce them and that is why they must be incorporated through food.
Chia seeds are the vegetable source with the highest concentration of Omega 3. They help to keep cholesterol levels low.
They have important antioxidant properties, which benefits the body from cellular aging.
In addition, they are rich in calcium, iron and are an important source of fibers.
Nutritional Facts

| | Proportion Amount | % VD (*) |
| --- | --- | --- |
| Energetic value | 52 kcal = 219 kJ | 3 % |
| Carbohydrates | 4 g | 1 % |
| Proteins | 1,9 g | 3 % |
| Total Fats | 3,2 g | 6 % |
| Saturated Fats | 0,2 g | 1 % |
| Trans Fats | 0 g | - |
| Omega 3 | 2g | 83 % |
| Omega 6 | 0,8g | 80 % |
| Dietary Fiber | 3,5 g | 14 % |
| Sodium | 0 mg | 0 % |
| Calcium | 54 mg | 5 % |
| Potassium | 39 mg | - |
| Magnesium | 30 mg | 12 % |
| Phosphorus | 61 mg | 9 % |
| Iron | 7,3 mg | 52 % |
| Vitamin A | 100 ug | 17 % |
| Vitamin B1 - Thiamine | 0,22 mg. | 18 % |
| Vitamin B3 - Niacin | 1,26 mg. | 8 % |